Admissions Requirements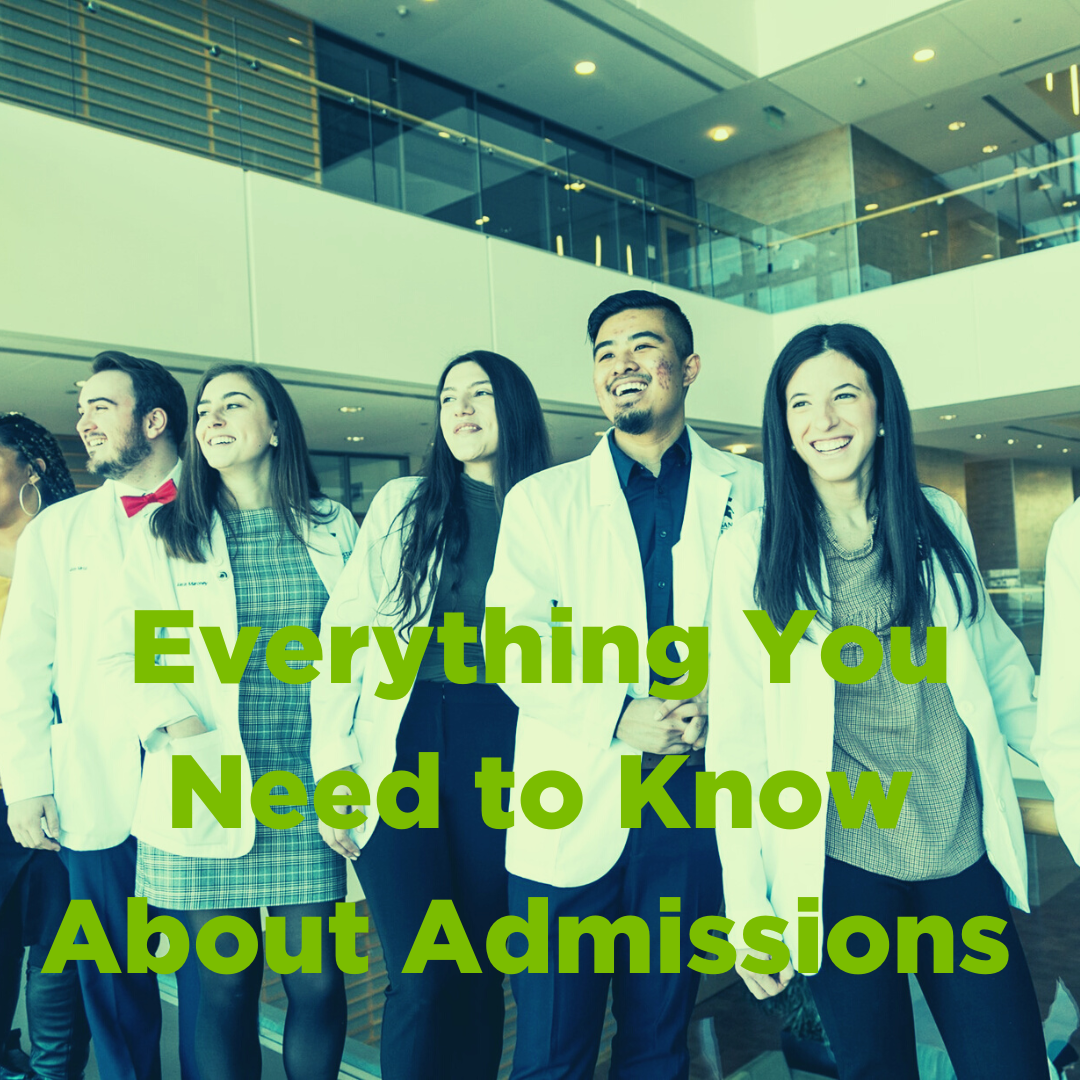 We know how important your medical school application is. Our office is here to help! We've taken the guess work out of the admissions process. Download the PDF
Everything You Need to Know About Admissions
. In this packet you will find pertinent information related to the application process, timeline, and additional resources. Save this document for reference and help throughout the application cycle.
Notice Regarding COVID-19
Notice Regarding COVID-19
The College of Human Medicine recognizes that the recent COVID-19 crisis has been life-disrupting for everyone. As we transition from pandemic to endemic and beyond, we must consider how students and applicants have been affected.
Grades through Spring 2022
Many colleges and universities used a Pass/Fail system for coursework through spring 2022. As such, College of Human Medicine will accept all coursework from winter 2020 through summer 2022 without bias graded in such a manner. This includes coursework that is traditionally considered prerequisite or recommended for many medical school admissions processes. 
Most schools have since returned to an in-person learning experience beginning with the fall 2022 semester. As such, traditional letter/numerical grading will be required for prerequisite coursework starting then but may be reconsidered pending future life-threatening outbreaks of COVID-19 and individual institutional circumstances.
Activities
The College of Human Medicine has a long history of approaching admissions decisions holistically and in a way that balances our focus well beyond academic metrics. We understand that the pandemic interrupted various activities that would have helped you provide additional support to your application. College of Human Medicine Admissions would encourage you to convey these disruptions in your application for our committee to consider—activities section, personal statement, secondary application—wherever best for you.
Onsite tours and programming
College of Human Medicine has re-initiated onsite campus tours for prospective applicants. We also encourage prospective applicants to review our virtual tours, which highlight both our East Lansing and Grand Rapids campuses. In-person recruitment programing will be reserved for applicants who have received an acceptance decision by our admissions committee.
Final Comments
Medical school admissions processes strive to create assessment strategies that are fair and equitable for everyone. Unfortunately, COVID-19 ignored fairness and equity. For some of you, this might affect your ability to put forth the best application possible. For most medical schools, though, the applicant pool will remain highly competitive even with the lingering effects of COVID-19.
As you prepare to apply to medical school, please maintain healthy relationships with your prehealth advisers, especially after graduation. Keep an open mind. Be receptive to feedback. The application process is expensive. And understand that there is/was nothing fair about our recent public health crisis. Apply to medical school only when your application is competitive. A robust and healthy dialogue with your prehealth adviser will help you determine if you are ready to apply.
With PLUR,
Joel Maurer, MD
Assistant Dean for Admissions
General Factors
Applicants and Subsequent Matriculants to the MSU College of Human Medicine must:
Be a U.S. or Canadian citizen or permanent resident of the United States


Have a valid U.S. or Canadian Driver's License and reliable vehicle upon matriculation

 to facilitate travel to distant educational sites and navigate inclement winter weather

Have completed at least a four-year high school education or equivalent

Have completed all premedical requirements, including a bachelor's degree earned in the U.S. or Canada


Have taken the Medical College Admission Test (MCAT)

Have taken the either the CASPer Test or the AAMC PREview™ Professional Readiness Exam
Medical College Admission Test (MCAT)
The college requires all applicants to take the Medical College Admission Test (MCAT). Submit your existing MCAT scores with your AMCAS application. If you are retaking the MCAT to improve your scores, we will accept scores no older than four calendar years.

For MCAT Test deadlines, please see our Dates & Deadlines Page.

The only applicants for whom scores from MCATs taken after the given deadline may be considered are those who are placed on the Alternate list after interview, and then only at the discretion of the Committee on Admissions.

Changes to MCAT information in AMCAS
If there is any change to your MCAT intent (changing your "Addl MCAT Intent Date" to a future date or removing it), you must recertify and resubmit your AMCAS application in order for this change to become an official update. Simply saving the change and exiting the application is not enough.


If you are taking the MCAT after you submit your AMCAS application, your application will be held for an interview decision until your MCAT scores are received. To avoid any delay in reviewing your application once your scores are received, we suggest that you go ahead and pay your Secondary Application Fee and submit your Secondary Application.

If you indicated on your AMCAS application that you were going to take an MCAT exam on a particular date but do not take it, notify our office by email so that we can go ahead and review your application.

If you indicated that you were not going to retake the MCAT exam on your AMCAS application but changed your mind and will take the exam again, in or before September, you must notify our office by email so that we will hold your application for review for an interview decision until we receive those scores.

Situational Judgement Testing
The college requires applicants to take either a) Casper Test (Altus Suite) or b) PREview Exam (AAMC). Please check the Altus Assessments and/or AAMC websites for registration and available testing dates.
Please note that MD/PhD applicants, however, must take one of these exams by the given deadlines for the current application cycle. MD/PhD applicants who test beyond the deadline will not be considered. 
If Casper is chosen to fulfill the situational judgment test requirement, the College of Human Medicine also strongly recommends applicants take the Duet assessment.
Premedical Course Requirements
Premedical requirements are minimums that must be fulfilled prior to matriculation at the College of Human Medicine. Your AMCAS academic record will be reviewed for completion of our premedical requirements. If you are invited to interview, your Premedical Requirements form will also be reviewed. If any deficiencies or discrepancies are found, Admissions staff will either discuss this with you on Interview Day or contact you by email shortly thereafter.
Undergraduate coursework must be completed at an accredited US or Canadian four-year college or university. There is no requirement as to how recently your undergraduate courses or premedical requirements were completed; however, more recent coursework or advanced study in the basic sciences is preferred. There is no preference of where you complete your premedical courses, as long as they're completed at an accredited US or Canadian undergraduate institution.
We will accept courses from community colleges if they are accepted at an accredited four-year US or Canadian undergraduate institution as transfer credit. To verify if a specific course is accepted at MSU, visit the MSU Transfer Admissions site and view the Transfer MSU Credit Equivalency System.
If you are accepted to the College of Human Medicine, you will be required to submit official transcripts from all post-secondary schools you have attended (AMCAS does not forward transcripts). In addition to updating your MSU student record, your transcripts are reviewed for the completion of any degree(s) listed on your AMCAS application, as well as any incomplete premedical course requirement(s) that you indicated on your AMCAS application. If there are changes in premedical courses you indicated you would complete and/or degrees you indicated you would earn, please notify the Office of Admissions right away.
Prerequisite Models
Flexibility in curriculum is a key concept in trying to meet the many types of qualified applicants that exist in today's changing world. This coincides with schools, including our own, taking a more holistic approach to reviewing applicants once they apply to medical school. In order to meet the needs of many types of applicants (both traditional and nontraditional) and undergraduate institutions, College of Human Medicine has embraced a flexible approach in providing various options (or pathways) to meeting premedical course requirements.

It is best that you review these options early in your academic career with your academic and/or preprofessional advisor so that you can best determine which academic prerequisite option is best for you in the context of your planned course of undergraduate study. Click the button below for further information and the list of models.

Additional Pertinent Information
AP/CLEP Credit
We accept AP and CLEP credit to meet premedical course requirements, if documented on an official transcript. Please note that lab credit will still be required. Applicants may meet lab credit with the lab sections of advanced science courses or practical experience, such as documented relevant experience in a research lab.

Canadian Coursework
We will accept courses from member universities in Canada that belong to the Universities Canada organization. 
A one-year Canadian course will fulfill our one-year course series requirement.  However, for the MCAT-Influenced Preparation Model, a lab component must be included with at least one of each of the applicant's biology, general chemistry, organic chemistry, and physics courses.
If you have any questions or concerns or need additional information about premedical course requirements, please email the Office of Admissions.