Interviewing at CHM
The College of Human Medicine Interview Days take place at two locations—rotating between CHM facilities on MSU's main campus in East Lansing and the Secchia Center in Grand Rapids.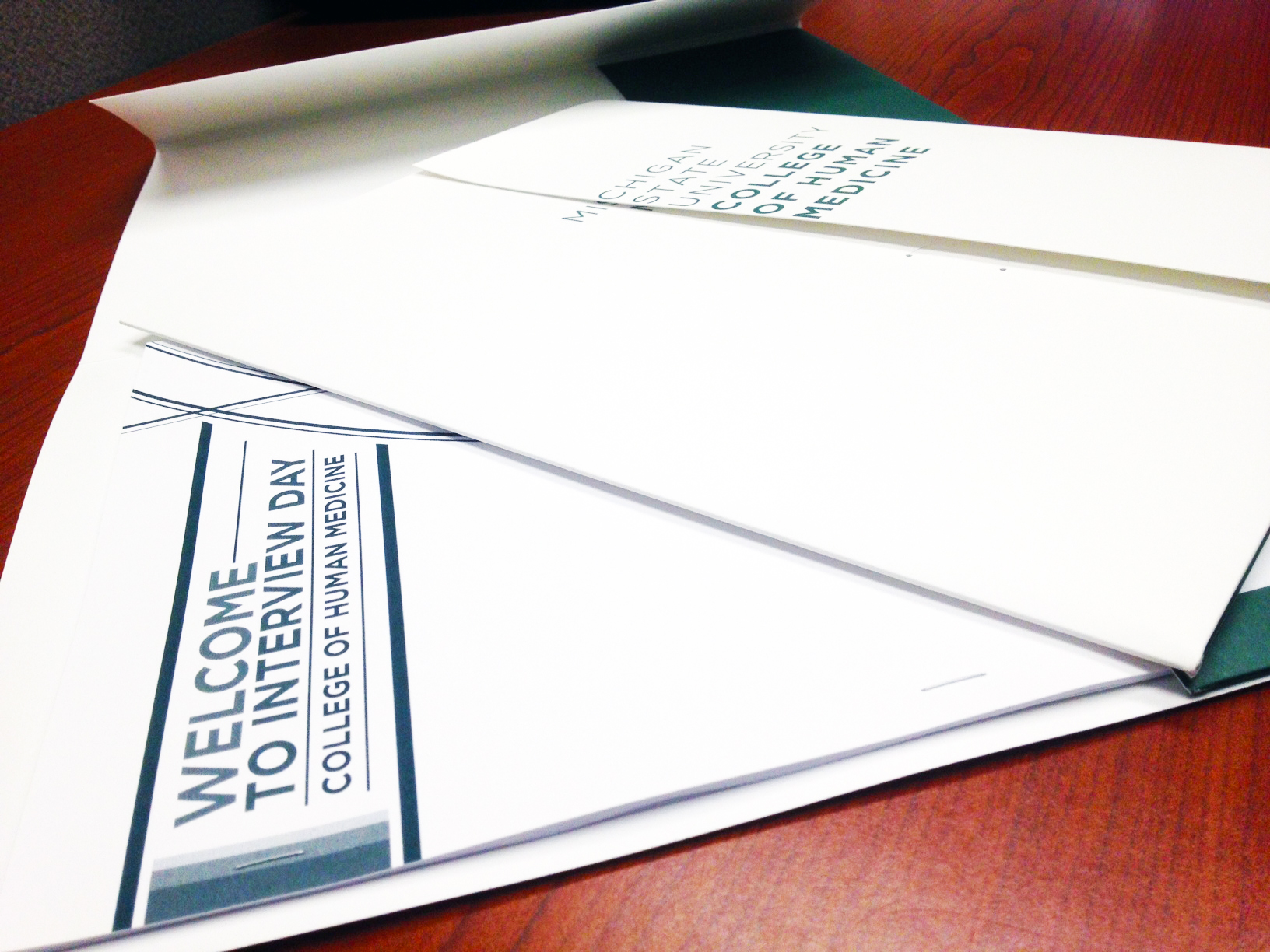 CHM uses two types of interview assessments: a one-on-one, 30-minute structured interview with a current medical student and a multiple mini-interview (MMI).
The MMI consists of timed (eight-minute), highly-structured interview scenarios. Applicants rotate through eight stations, each with its own interviewer and interview scenario. Interview scenarios include addressing questions, collaborating with a fellow applicant on a project, and engaging in role-play with a standardized actor.

We believe that the combination of these two types of interviews will provide us with the most accurate information about you, thus giving you the best chance to shine for the Committee on Admissions!
We look forward to meeting you on Interview Day. If you have any questions or concerns in the meantime, please contact the Office of Admissions by email.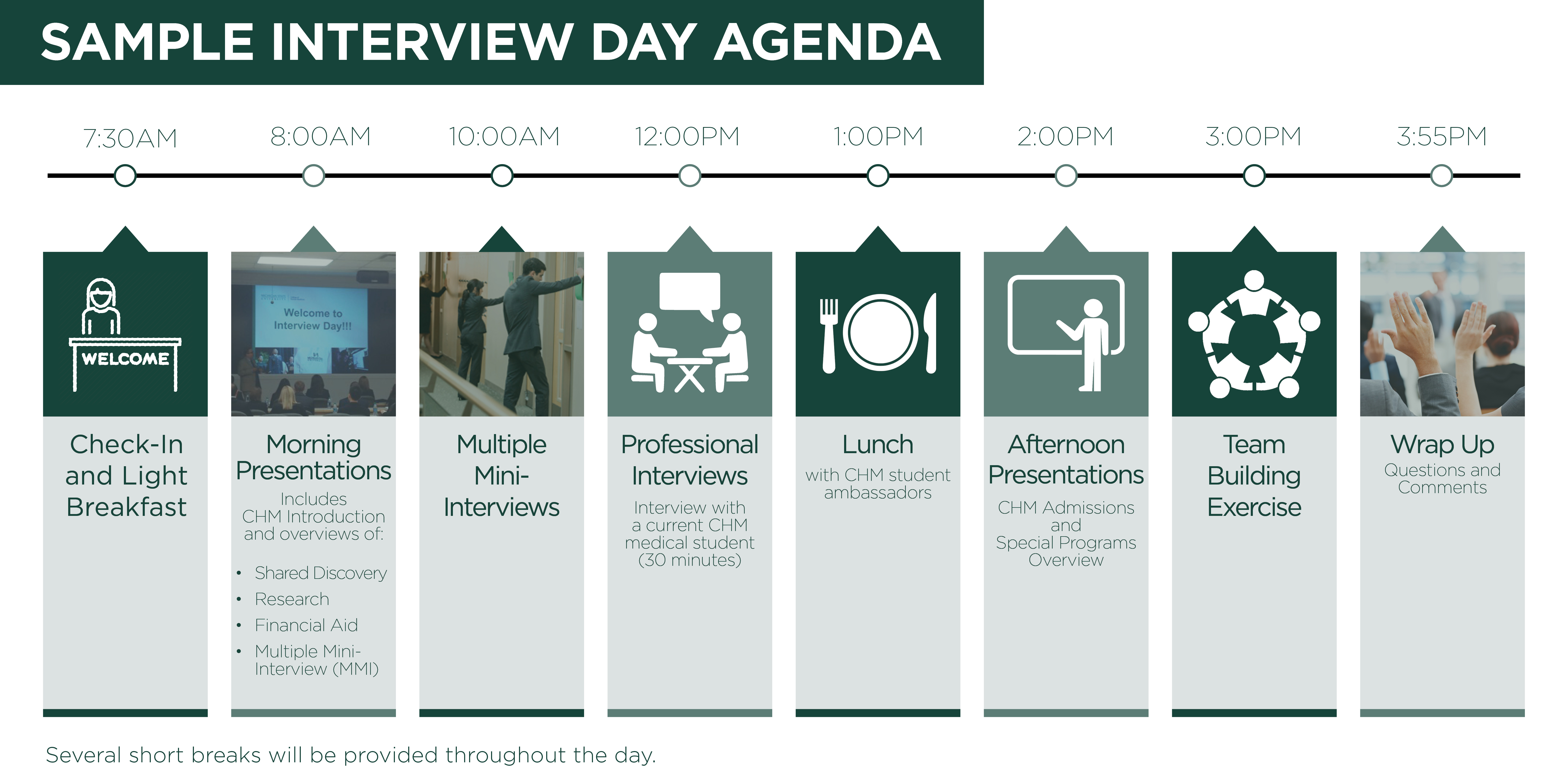 Rescheduling a Confirmed Interview
If circumstances change and you are unable to attend your confirmed Interview Day, please email us at least one week prior to your scheduled interview date. It is critical that you reschedule your interview date or withdraw your application in a timely manner so that another applicant may be given the available interview slot.

If you need to reschedule your confirmed interview date but fail to provide us with at least one week's notice, it is possible that you may not be allowed to reschedule your interview. The opportunity to reschedule will be at the discretion of the Assistant Dean for Admissions.
Interview Cancellation
Please exhibit professionalism and courtesy if circumstances change and you are not going to attend your scheduled interview day. Notify our office ASAP by email or call 517-353-9621 to cancel your interview and withdraw your application.

The interview scheduling process is complex and time-intensive, and our faculty and students volunteer their valuable time to interview applicants. Withdrawing in a timely fashion avoids inconveniencing others and gives us time to offer this opportunity to another applicant.
East Lansing Campus
Interview Day begins in the Radiology Building, located on the main MSU campus at 846 Service Road.

Please see our Visiting East Lansing page for pertinent information, including directions, parking, airports, transportation services, and accommodations.
You must park in Visitor Parking Lot #100, located in front of the Radiology Building. There are two entrances into Lot #100 directly off Service Road (east and west). When entering the west entrance, please avoid the Clinical Center patient parking to the right.

Note: The Office of Admissions staff will give you a validation slip when you check in.

Enter the Radiology Building through the main doors on the north side of the building. The admissions staff will greet you upon entry. Interview Day activities begin in the Auditorium.
Grand Rapids Campus
Interview Day takes place in the Secchia Center, located in downtown Grand Rapids at the northeast corner of Michigan Street NW and Division Avenue N. Bring the pink ticket you receive at the gate when entering the parking garage and the Office of Admissions staff will provide you with a white validation card to use when you leave.

Please see our Visiting Grand Rapids page for pertinent information, including directions, parking, airports, transportation services, and accommodations.
Interview Day activities begin in Room 110.  Enter the building through the parking ramp. Take the west elevator (entrance to elevator area has glass doors) to the first floor and go to Room 110.

It is not necessary to check in with the Office of Admissions upon arrival. Proceed directly to Room 110.