Visiting Grand Rapids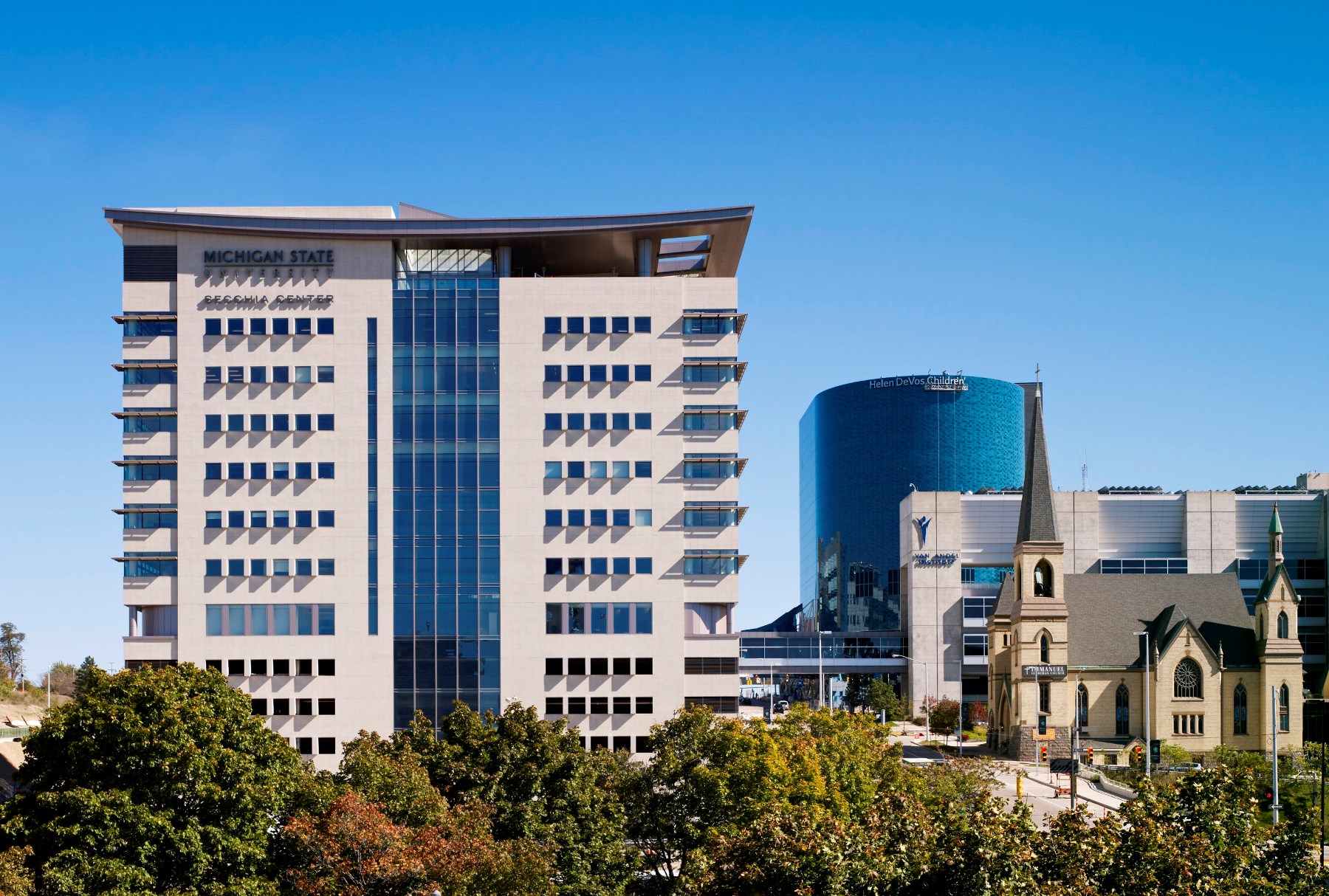 Getting to the Secchia Center
The College of Human Medicine Office of Admissions is located inside the Secchia Center. The Secchia Center is located at 15 Michigan St NE, Grand Rapids, Michigan, 49503-2508. Our office is located on the third floor.
Parking
When you enter the ramp, take a pink ticket from the dispenser. The Office of Admissions is only able to validate parking for those visitors who are specifically here for Interview Day or otherwise to meet with admissions staff. Visitors may park on level P3 near the west end of the parking structure.
Use the green painted elevator bay furthest to the west. If you are coming for a tour or admissions meeting, take the elevator to the 3rd floor. The Admissions office is on the 3rd floor in Suite 385 (turn left after exiting the elevators – we are the office right before the walkway).
If you are arriving for an interview day in Grand Rapids, please proceed directly to room 110.

When you exit the building, be sure to use one of the elevators labeled Access to Parking and proceed to the correct parking level.
Airports and Other Modes of Transportation

If you are flying into Detroit Metro Airport or the Lansing Capitol City Airport, there are several options to help you get to Grand Rapids should you decide against renting a vehicle:  The Greyhound, Megabus, Amtrak are all viable options for getting to and from Grand Rapids.
Area Transportation
There are a variety of transportation options that service the entire Grand Rapids metro area. Mobile-app-based transportation networks like UBER can be used in Grand Rapids as well. If flying directly into Grand Rapids, check with your hotel to see if they offer complimentary shuttle service from the Gerald R. Ford International Airport.
Accommodations
Accommodations in downtown Grand Rapids are perhaps the most convenient in terms of proximity to the Secchia. Yet there is an abundance of lodging options throughout the Grand Rapids metro area. A good list of options can be found on ExperienceGR.com.
Interview Day Emergency Contact
If you need to reach the Office of Admissions the evening before or morning of your interview, please email chm.interview@msu.edu (frequently monitored) and call 517-353-9621 (leave a message – staff arrives at 8 am).