Medicine and Purpose: Frank Animikwam, Fourth Year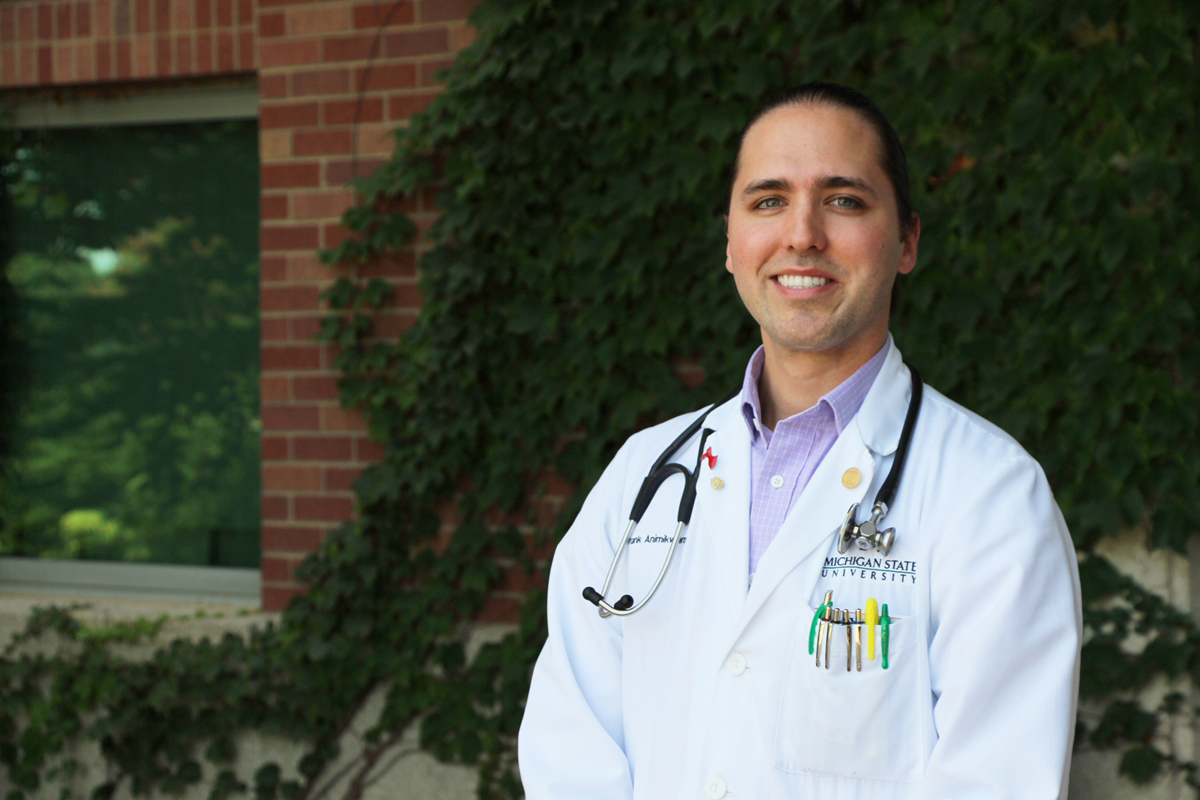 Fourth-year student, Frank Animikwam, is fairly adamant there was never one defining moment in choosing a career in medicine. There was never a light bulb-type of scenario where he suddenly knew this was his calling. Instead, the desire to become a physician was something that steadily grew from one experience to another.

What Frank did come to find out, though, was that those experiences have always had an underlying foundation—community.

Perhaps it is no surprise that Frank would end up as a student at the nation's pioneer community-based medical school. Community, after all, has always been an important aspect in Frank's life, ingrained in his Native American heritage and, on the verge of graduation, a big motivation.
Medicine has always been viewed as more than a career. To him, medicine is about making life better. The experiences that drew him to that conclusion were immediate.

"I was born with club feet. My feet were turned in and the doctors said that if I didn't get surgery, I'd likely need crutches or a wheelchair for the rest of my life. But orthopedic surgeons were able to correct my club feet and drastically improve my quality of life. So I had life-changing, significant events involving medicine since birth."

The procedure would have a profound influence on Frank that went beyond the physical.  

"For me, that was huge. For [a physician] to have that much of an impact on my health so that I have a good quality of life just meant so much to me," he says. "I've always had that feeling, that desire to want to help in that way."

Frank grew up just north of Detroit in Mt. Clemens, a blue collar town for blue collar households. His father worked at the Ford Company for years. Mom stayed at home to take care of the children and help out in the lunchroom at the local school. A typical family structure in the Detroit-metro area of the times.

"I didn't have much of a medical family background, but I was always shown what hard work could accomplish. That meant providing for your family. It's about family value. So that really drove me to continue on with education and keep medicine in my mind."

By his teens, he began utilizing his resources in preparation for med school. He took it upon himself to shadow family medicine physicians, including one he happened to know well. His cousin, Dr. Terry Samuels, agreed to have him for several days at their tribe's health clinic for the Little Traverse Bay Bands of Odawa Indians, located in Petoskey.

"That was the first time I put on a white coat. It was a big, baggy white coat and I could barely fill it," he laughs.

"I didn't know anything about medicine so I was just kind of standing there. But I got the experience and I was able to see how someone from the community, a family medicine-trained physician, met with patients. Those patients were able to connect with him. I saw a lot of gratitude and appreciation…on both sides."

Deeply shaped by his Native American lineage, his cultural connections reach wide. Frank's naturally familiar with the metro-area's urban Native American communities, but his tribe is in a more rural area of northern Michigan. Having familiarity with both spaces gave Frank the ability to see subtle differences between urban and rural practices.  

What he also saw was a lack of funding, staff, and resources across the board for Natives. He says that most federally recognized tribes, which include a good amount of urban Indian populations and health clinics, receive funding through Indian Health Services (IHS), a federal program that funds medical services to Natives across the country. He concludes the general amount of dollars allowed to each person for IHS services is less than someone who receives Medicaid or Medicare.

While Frank feels fortunate that he was able to grow up with a health care provider, he fully understands that wasn't a given for everyone. In fact, his initial exposure to Native American health care began as he got older and was no longer covered under his parents as an undergrad. Frank went to a non-profit urban health center in southwest Detroit called American Indian Health & Family Services.

He came to learn that some Native communities don't have a physician who is genuinely from that community. Some tribes may not have a physician at all and need its residents to travel out for care.

"I want to be able to help the community address these disparities. And I think primary care is one of the integral parts in achieving that. Having that primary care doctor available can really help that community work towards their health and wellness."

Disparities like those are why he's always appreciated his family's support for his career choice. They, too, understand the holes Frank's aiming to fill.

It is why Frank has worked hard to make that dream a reality. He studied biology and Native American Studies at the University of Michigan with a keen eye on those premedical requirements. Beyond the books, he also jumped at opportunities to obtain more exposure.

In 2007, he participated in what was then-called the Native American Pacific Islander Research Experience, a program for underrepresented minority undergraduate students held in Costa Rica. He worked with a team assessing the water quality of the Guyami de Coto Brus, one of eight indigenous peoples of Costa Rica.

The following summer, he did some research with the Four Directions Summer Research Program (FDSRP), an "opportunity at Harvard Medical School and Brigham and Women's Hospital (BWH) for undergraduate students with a commitment to the health of Native American communities."

He did pulmonology bench research looking at cigarette smoke's effects on lung cells in Boston while taking the opportunity to shadow five different doctors. They served in several specialties including ear-nose-throat, internal medicine, cardiology, emergency medicine, and intensive care.

"I pretty much went through the whole hospital. I was just like, 'Oh my gosh, there is so much more to this than I thought there was.' Seeing such variety of medicine was amazing."
Taking an early peek at those specialties was great for Frank, but the pull towards family medicine was further reinforced after being invited to shadow another Native physician in 2010. He traveled to Minnesota to stay with the physician's family for a week. The opportunity gave Frank an intimate look into the daily life of a practicing physician. It also showed Frank that having a comfortable family life is possible, as Frank had already discussed children with his then-fiancée.

Balance is important. Primarily focused on the sciences up to this point, Frank also felt it was a necessary part of his journey to minor in Native American studies.

"I was able to learn a lot about history and the pre-contact era. I was also able to learn a lot about the boarding school era and the effects it has had on Native communities. That's played a big part in how our health care has been affected—there are generational effects, including system bias and racism. So that was interesting to me."

Frank says that those classes, like the three years of Ojibwe Language he took, really helped level out his consistent schedule of "rigorous and intense" science courses.

"I learned the language of my ancestors, of my family. It had skipped two generations, so I told myself that I wanted to learn the language so that I could bring it back. I made an effort to do it and that was really rewarding in my undergraduate experience."
But balance wasn't the only issue he was having at the time. While learning about himself in one way, he also felt unworthy in another.

"As a person of color, I understand that oftentimes, we don't see role models whom look like us in these institutions, in these roles. So it can be tough," he admits. "It was kind of strange. Going through undergrad was actually a really trying time for me."

There were times when Frank was filled with self-discouragement in college. He asked himself time and again whether he could really pull this off. What really helped him overcome those insecurities was something he'd always been able to lean on. His community was always there.

Along with the shadowing, he looked into conferences and workshops that specifically catered to Native American pre-health students and groups like the Association of American Indian Physicians.   

"That's what really helped me in my experience was to see others like me from the community who'd actually done it."

In the process of assuring himself, he wanted to assure others of their value too. He wanted to give back to his community in the Detroit-area. One of his primary volunteering experiences while an undergrad was with the American Indian Health and Family Services' youth program. The program focuses on alcohol, tobacco, and drug abuse prevention as well as reinforcing and supporting Native American culture and tradition.  

All those experiences—from the shadowing to the research, from the conferences to volunteering—really strengthened his resolve. Those experiences showed him it was possible.

Still, his struggles in school had made a dent in his grades. He needed to re-strategize after graduation. To address the weakness before applying to medical school, Frank enrolled in upper-level science courses at Wayne State University as part of an informal post-bachelor's non-degree program.

"I did that and I did really well there. I was proud of my grades and I felt good. But it always came down to that standardized test!"

The standardized test Frank refers to is the MCAT, or Medical College Admissions Test.

He failed the MCAT twice before passing on his third try. Routinely meeting with an advisor for support helped. Consistently engaged community and family members also helped Frank to focus during those difficult times. So close to medical school, the birth of his first daughter in 2011 gave Frank a final push to keep pushing towards his ultimate goal. He had a family of his own now..

"I was persistent and I was resilient. I think those are two qualities that were really brought out through preparing to apply. On a larger scale, those qualities helped me get over those discouragements."

Once comfortable and assured, it was time to enter the admissions cycle. He felt that being trained at a medical school in Michigan would prepare him best for working with his communities here. It was only logical.

"I also wanted to look for a school that was supportive of several different things," he says. "One is that they promote, embrace, and appreciate diversity, inclusion, and culture. Also, I wanted to go to a school that could prepare me for working for my community, working for underserved communities."

The College of Human Medicine, with wide networks and partnerships in communities across the state, was appealing. He researched many of the schools in the state and some across the Midwest, but upon reviewing the College of Human Medicine's mission statement, he knew which school was the best option for him.

Plus, Frank wanted to be somewhere his family would feel comfortable. Frank and his then-fiancée received the phone call from Dr. Joel Maurer, Assistant Dean for Admissions, that he had been accepted into the College of Human Medicine. They burst into tears.

"It was a match. I had really connected with the people here and they must've felt that I was a good match for the program as well."

Frank officially received a white coat of his own—it fit him perfectly this time around—as a member of the college's 2013 entering class. Just the symbolism and visualization of attaining what he had only dreamed of for so long was enough to overwhelm him and his family.

"There were a lot of tears, [there was] a lot of joy. All that sacrifice and hard work...it was emotional."

Frank rolled up his sleeves and continued working, diving into the rigors of medical school. Yet while med school has not been easy, he's appreciated every step of the way in his pursuit to provide for his family, his culture.

"My experience here has been rewarding. The support for my culture and my needs, I feel like, have been met for the most part."

He found support and comradery through his participation in the college's chapter of the Latin American and Native American Medical Association (LANAMA), which helped give him a strong connection to the hub of Latinx medical students as well.

"I felt like a part of a group. Everyone was really supportive of one another. Everyone has a strong sense of culture and pride, their spirituality, and so I felt a part of that."

The friendships he has gained in LANAMA are no surprise to Frank, considering everyone is supportive of one another. He says that while you may get a couple people who are competitive, everyone shares a comfortable and appreciative comradery. The people that he's really connected with have been just like family.

Yet in terms of spiritual need, Frank once again found himself needing an outlet to balance the stresses of academia. Whenever there was free-time, Frank would pile up cars with family and friends to trek through the state to meet up with some of the closer tribes. In particular, there is the Saginaw Chippewa Tribe in Mt. Pleasant as well as several bands of Potawatomi in Southwest Michigan.

"After an exam, if it fit the timing or if there was a round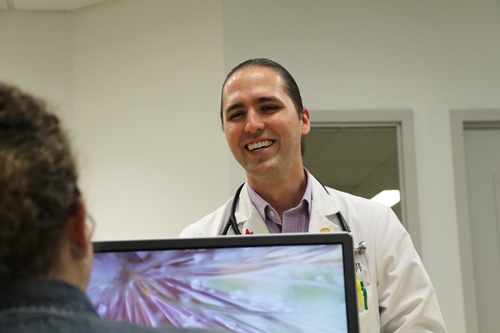 dance, a pow wow scheduled, especially during the summer, we made that drive. I would sing with my brothers and really get that outlet that I needed. That really helped with balancing the stress and meeting the commitments of medical school."
But for Frank, it's not always been about what he's received, but what he gives as well. Initially placed in Lansing for his first two years, he then decided to stay in Lansing for his final two years, where he's worked directly with those who need the care most.

"Lansing has been great. You get a lot of experience working with underserved communities," he declares.

"I had an experience in family medicine here, a clerkship, where I got to work in south Lansing at the Care Free Medical clinic. Their focus is almost 100% underserved patients and those without insurance. About 80% of their population is on Medicaid, so that was a rewarding experience as well. I felt like that helped prepare me to work in my community."

He's on his way. As graduation approaches, Frank has been sending out his application for family medicine programs. A residency match is on the horizon.

Wherever he matches, he'd preferably like to stay there for a bit even after residency. Stability is more important for Frank and his family, which is now up to four. The Animikwams had a second daughter over the last year.

The stability, he hopes, is also going to help him garner another four or five years of work and training experience after residency.

"I feel like I'll be more prepared to provide better service," he says. "That would be the plan; work [in residency] for a little bit and come back to Petoskey to work for our tribal clinic there."

To think, the dream he's had for decades now is finally coming to fruition. Frank's story is one of resilience, sure, but it's also one of consistent execution. His dream never wavered amid setbacks and doubt. And it was his family and community that allowed him to feel assured he was taking the right path, even when the path ran out of his comfort zone.

While he looks ahead to where he may possibly match, he likes to think back to a story within the shadowing trip he took to join his cousin in Petoskey. On the first day's lunch break, Dr. Samuels took Frank on a quick side trip to see some of the elders. In the government center, there's a community gathering space where many of the elders would join on Tuesdays and Thursdays for an elder's luncheon. Together, they entered the event still wearing their white coats and greeted all in attendance.

"We came and [my cousin] got on the microphone. He shared, 'Good afternoon. I just wanted to let all of you know that we have a student here,'" Frank reminisces.

"They all know me so he goes, 'Frank is going to be working with me for a week in the clinic. Some of you may see him. He's interested in working for us one day in our tribe clinic.' And everyone cheered. They were so proud and happy," he adds.

"That's one of the times I really felt this was my calling. While we were driving back, it was quiet in the car. We were in our thoughts and I looked over to him and I said, 'It feels different.' He then looked over at me and he said, 'Of course, it should.'

"He goes, 'You're finding your sense of purpose in life. There is nothing greater than that.'"