Breaking Boundaries: Joanna Calderon, M.D., 2016 CHM Graduate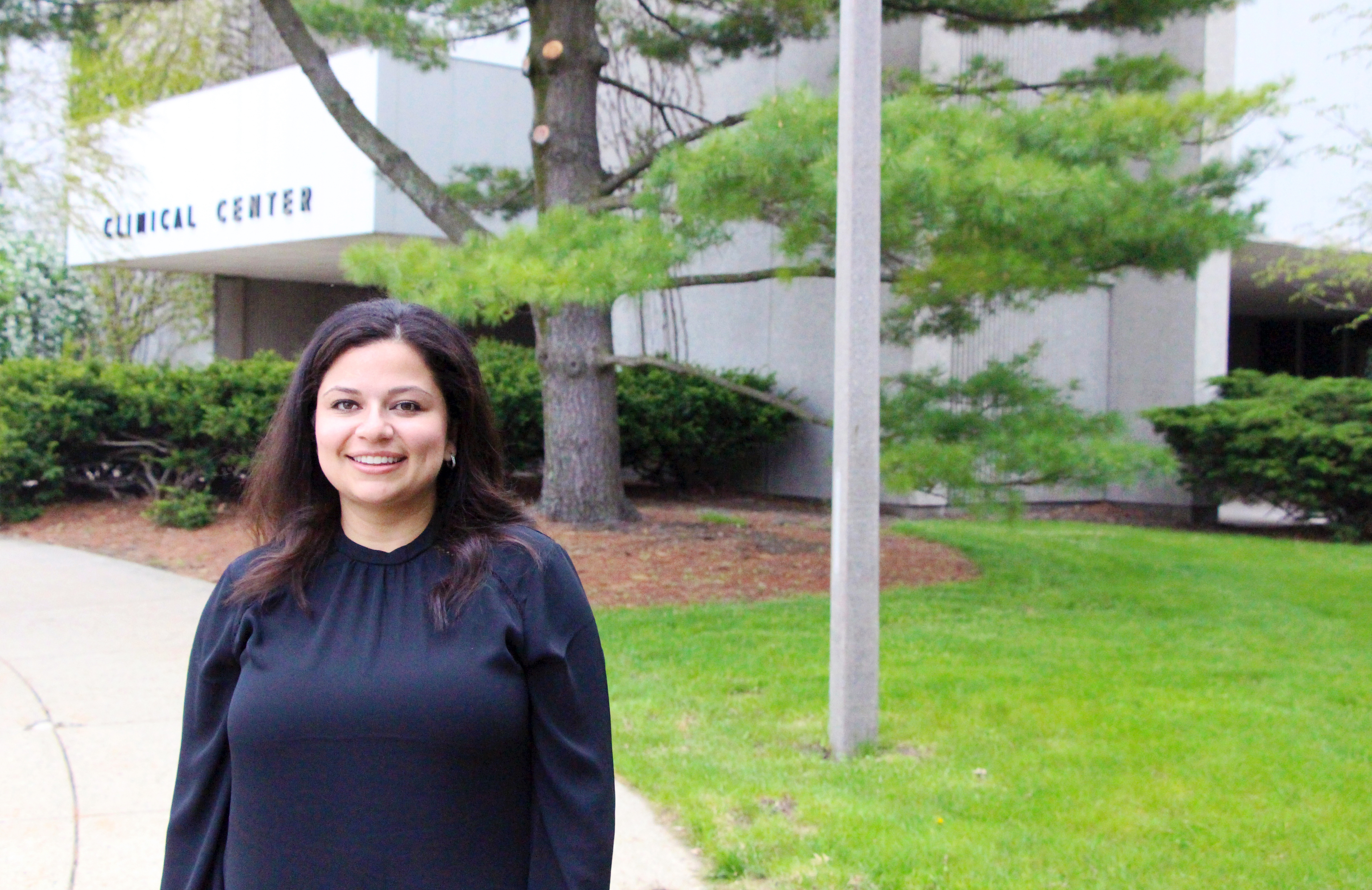 There are many reasons why people wish to become physicians. Yet one common thread from those pursuing medical school is that they simply want to help people.

That's no different for 2016 College of Human Medicine graduate, Joanna Calderon-Sandoval. Joanna's decision to become a physician stems largely from years of accompanying her grandmother to clinics as a teenager in Northern California.

But her story begins, naturally, with her parents. Her story of crossing the nation to attend medical school comes second to her parents, first, crossing the continent.

"My parents immigrated [to the U.S.] from Central America a few months before I was born. They moved around a lot within the bay area to find what worked best for them. So [San Francisco] is what I consider home," she says, proudly.

Joanna's mother and grandmother are from El Salvador while her father is from Guatemala. Together, they aimed to build a life of comfort and prosperity, away from the Salvadoran Civil War that plagued the country in the 1980s. Sacrifices and decisions, such as coming to the U.S., were made to survive.

That's why Joanna had been taught to appreciate the life afforded to them. Education was important, despite attending schools that she feels weren't always well-resourced or funded. Still, she worked hard and continued to achieve in school, enjoying biology and the sciences. Many times, she found herself the only female in upper level science classes at her Union City high school, let alone the only Latina.

She was observant. It was these teen years where she really began to take notice of the world around her, ultimately having a profound effect on what path she'd take. In particular, it was experiences with her live-in grandmother.

"My grandma lived with my family, pretty much, all my life. She had quite a bit of health issues and would have to go to the doctor's office a lot. I would usually take her because my parents worked and didn't have the time," she remembers. Without much money, they were forced to use public services. Her grandmother did not speak English, so it fell on Joanna to translate after providing transportation. The teen got a first-hand look at the discrepancies in health care that still affect many communities, including those of immigrants. The visits would prove life-changing.

What struck her the most, she says, was how physicians were simply not familiar with the background of their patients. It didn't appear as though the clinicians were doing enough to bridge the divide that existed between doctors and the community. She remembers how physicians expected their clinical patients—mainly those from impoverished communities and a good number of non-native English speakers—to know technical medical terms and procedures. She also remembers how her grandmother's physician interacted with her rather than acknowledging her grandmother, the actual patient.

"Even if I'm translating, I'm not the patient. She is. You can still talk to her and address things to her. But that never happened. Since I was just like this 16 year-old kid, we were dismissed most of the time."

That exposure to the clinical setting was a strong catalyst for her interest in medicine beyond academic curiosities.

"That's what sparked my interest. It wasn't necessarily the science of medicine. It was more the patient-physician interaction that I was drawn to. I could do better. They could do better. We can all do better."

Were the physicians there out of obligation more than desire? Or were they just burned out? Yet another aspect of those trips also bothered her.

"We would go to the community clinics and I saw how understaffed they were. There was never a time where we only spent an hour there. It was a whole-day thing because there were so many people that needed the help, yet not enough people to provide it."

Those long days can have a big effect on underserved communities. Many simply can't afford to take time off for medical attention, greatly affecting the health of impoverished families. In 2012, 53 million working-aged adults in the U.S. skipped needed care because of costs, which included the wages they'd lose by taking time off of work.

Joanna came to realize that people can experience the American health care system in vastly different ways.

"I would tell my stories about taking my grandmother but then my friends told their stories about health care. I'm like 'That sounds awesome!' Their stories sounded like nothing I was used to or had even been exposed to."

Why was there such a difference in experiences? She understood that money and access play a role but wanted to dive deeper.

"My belief is that we all deserve health care. I do think it's a right. Because when someone is healthy, they can be an active member of their community. And that's what we need. So if someone is denied health, how is it that they're expected to contribute? Having to ask myself those questions and seeing those differences did not sit well with me."

She decided before graduating high school that medicine was going to be her career. But deciding was the easy part. In regards to getting into med school, Joanna didn't exactly have an example to follow.

"I knew nothing. I just knew I wanted to be a doctor," she laughs. "I remember applying to college thinking that my major needed to be pre-med. I just figured that's what I had to do because that's what I wanted to be."
Joanna applied to schools with strong pre-med programs. One of the first she saw with "pre-med" in the title was for a bioengineering degree at the University of California—San Diego. She was accepted. A proud moment for a family who's future was uncertain less than twenty years earlier. To continue her education, Joanna's story would mean moving across the state to Southern California. The campus was about a nine-hour drive away from her family, but she was excited to begin.

Unfortunately, the excitement was short-lived.

"I started school and I absolutely hated bioengineering. I did not like it at all. It was not what I thought college or medicine was going to be."

She didn't do well her first year, despising the program. Seeking help, she spoke to peers and counselors who advised her that she could actually study whatever she wanted. Many schools do not give preference to particular majors, including the MSU College of Human Medicine. The undergraduate student learned about premedical requirements, now better understanding the path to medical school.

One of her subsequent decisions was to switch to a dual-degree effort in biology and psychology—majors she genuinely was interested in and believed would help her the most. With a refreshed focus, she began doing much better in school and found time to work with the community. Tutoring at-risk youth in the area was one of the things that made her happy. Yet while the change helped smooth things out a bit, Joanna acknowledges that college was still tough in other ways.

"In high school, I was definitely one of the smart kids. Then I go to this big institution and everyone is smart. There are smart people from all over the country. It was also far from home. I just didn't know if I belonged there."

She made an effort to find and meet more people whom shared similar backgrounds and values.  Joanna says joining her sorority helped her feel more adequate about being in college. Her newfound sisters made San Diego more comfortable. As it turned out, some even shared the same career goals. That support structure helped alleviate the pressures and anxieties that would arise from being a first-generation college student. Still, Joanna didn't feel quite ready for med school when it came time to put a post-graduation plan in motion.

"You had other students saying 'I published this!' and 'I did this!' or 'I'm working with this doctor on this project.' For me, I didn't think I was on that level."

Joanna decided to take a fifth-year to study abroad in Madrid, allowing extra time to strenghten her application. Standardized tests weren't always her strong suit, she insists, so preparing for the looming MCAT was important.

"You hear people say, 'I got a 40 on the MCAT…without studying.' I didn't feel I could pull that off. I thought that I just needed the time to prepare and become a better candidate for medical school."

Spain would have a great impact on her. The experience opened her eyes to health care abroad, allowing her to observe how the Spanish system was both similar and different from that of the United States. A hot topic here in the U.S., Spain has universal health care, to which she saw both pros and cons while on her trip.

"Of course, they have their issues like any health care system. But it was interesting to be in a different mindset and to see how different cases are handled."

Among similarities, Spain services a large immigrant population as well. Naturally, Joanna was interested to learn more from that aspect.

"[Spain's health care system] looks a little different but, at the bottom, it's the same. It is people trying to move into another country to escape whatever situation they encounter back home to make a better life for themselves and their children."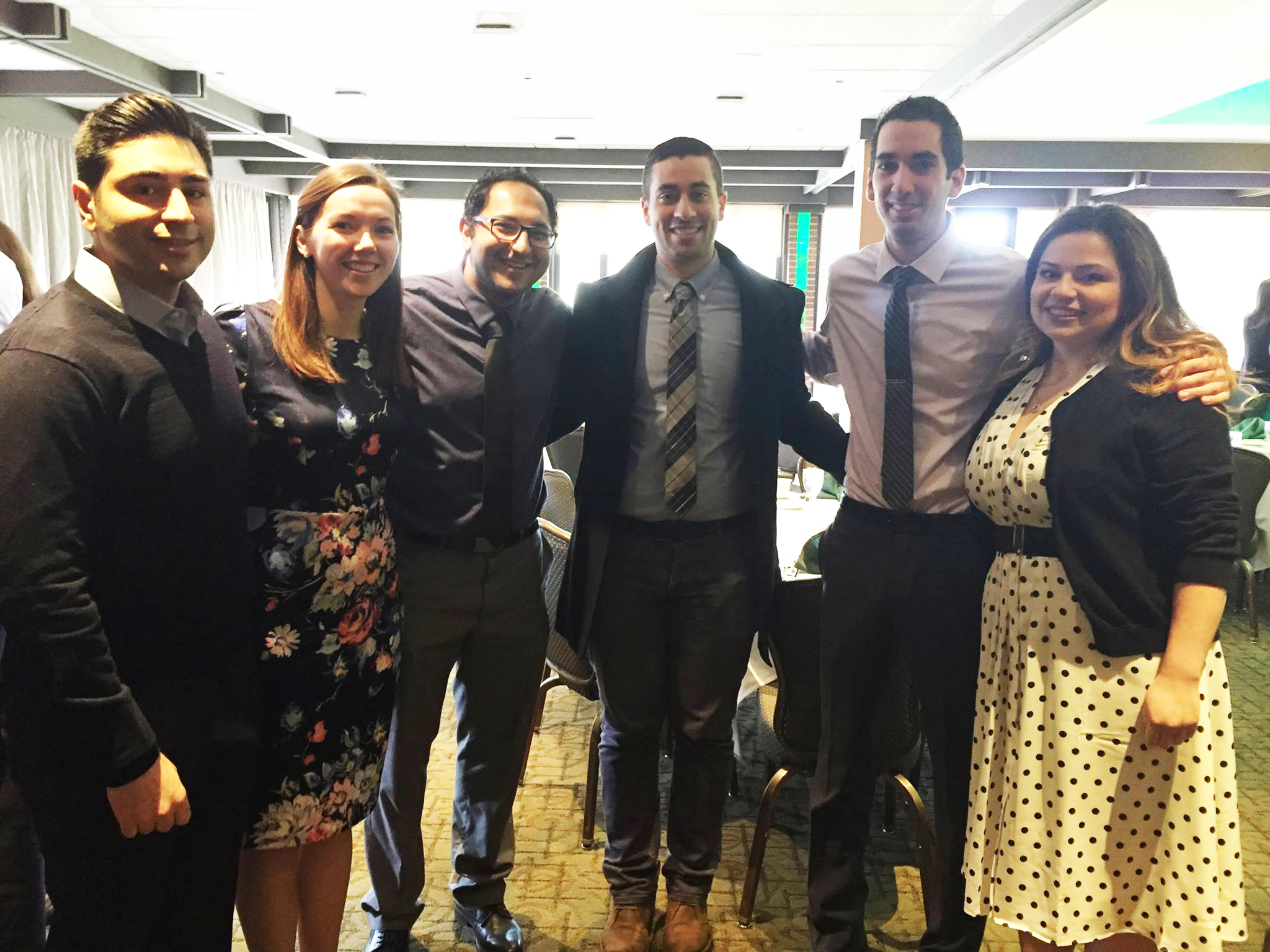 She returned to California, even more assured that medicine was her path. By the summer of 2009, she felt the time had come to join the applicant pool. Joanna searched for schools that embraced her aspirations. Meanwhile, she continued to do something that became a passion for her as an undergrad.
Tutoring at-risk youth from under-resourced schools gave Joanna excellent volunteer experience and reaffirmed to her the needs in underserved communities were wide. She began coming full circle with questions that arose from the experiences with her grandmother as well as her time in San Diego and Madrid. She saw a direct link between educational performance and poorly-controlled medical conditions.

"We had students that would miss days on days on days because they were sick. Some didn't even have their asthma controlled. If their mother was sick, they had to stay home rather than go to school. Seeing those interactions helped me get a different perspective on what medicine can do. Focusing on that helped me with my personal statement."

Joanna wanted to go to a medical school whose focus on the underserved fit in line with her ambitions. When applying to schools, she looked for programs that had a strong primary care focus and that really valued helping underserved communities. She looked for programs in and out of California that would allow her to be truly invested.

"I was familiar with the California schools and what they offered. So looking out-of-state, I wanted to apply to places I felt I would fit in and that would mold me into the type of physician I wanted to become."

It's no coincidence that her affections led Joanna to the nation's pioneer community-based medical school. Upon researching the Michigan State University College of Human Medicine (CHM), Joanna says the Leadership in Medicine for the Underserved (LMU) Program really stuck out. The school's mission embodied everything she was looking for and the LMU Program facilitated the type of training she hoped to encounter.

Joanna was also intrigued by the fact that CHM has community campus sites throughout the state, rather than one location. She loved CHM's many collaborations across Michigan.
"I want to say that's what stood out the most to me. Many of the other programs I applied to were in one location. I thought it was pretty cool that one medical school can service so many people across the whole state. I think that's what medicine is about—going out into the communities and providing the services for them. It's not necessarily what the community does for me, but what can we do for the community."

Joanna was invited to interview on what would be a snowy, winter day. Despite the weather, she felt comfortable with CHM immediately.

"Interview Day was amazing! Everyone was so friendly and welcoming. I remember they were talking about the LMU program and I was like, 'Yeah, this is it! This is what I want to do.' I felt like this is the place that was going to help me."

She says receiving her acceptance to CHM was one of the happiest days of her life. She had worked so hard to get to this point, though the work wasn't over. She was offered a spot in the ABLE Program, a year-long enriched academic experience offered to invited groups of disadvantaged students. Students who successfully complete the minimum requirements of the ABLE Program are offered full matriculation into the following year's entering class.

"My road to medicine was not simple or straightforward. I definitely had my bumps in the road. So when I found out I got in, it just felt awesome. I felt so grateful. This was it."

But Joanna also felt happy for her parents. They achieved this together, after all. Specifically, Joanna was glad for her mother, whom always wanted to go to college. Unfortunately, mom never got the opportunity due to the civil war that ravaged her home country. But the war was far behind them. This was a joyous time. 

"She always wanted me to accomplish my goals. It just felt good, not only for me, but for her."

Once again, Joanna's story meant crossing terrain. California and Michigan aren't exactly neighbors. Joanna knew, however, that CHM was a great fit. She dove in and completed the ABLE program, matriculating in the fall of 2011. Soon thereafter, Joanna was once again unsure of her standing amid these accomplishments.

"The hardest thing about medical school is feeling that you belong. There were many times imposter syndrome was real for me. Everyone is incredibly smart and you have different types of medical students. You have those who are vocal and super-confident. I've never been the center of attention, so comparing myself to other classmates was hard."

Medical school would take some time and more personal growth. She was committed, though. Little by little, she found a groove with her classmates. Fostering an environment of collaboration rather than competition, the group bonded with every course packet and exercise.
"The friends I've made here are amazing. We've done a lot of things together including the Peru Service-learning trip. It's amazing going on a trip with friends because you know each other so well and have the same purpose for the trip—going to another country and trying to help in whatever way we can."

In her second-year, Joanna and classmates had the opportunity to travel abroad. Beyond Peru, students can travel to international areas such as the Dominican Republic, Costa Rica and Ghana as well as other domestic destinations. It was a trip Joanna says they'll never forget. Along with volunteering at hospitals and clinics, students also received a good look at international medicine and underserved health care.
She felt compelled to make a difference at CHM too.

Joanna had been involved with the Latino Medical Student Association (LMSA) in California. She found out that the organization had been active at CHM before her arrival and was subsequently put into contact with other LMSA students from the region. They told her that the LMSA-related groups in Michigan went under the name, LANAMA—the Latin American and Native American Medical Association.

She thought it was great that the focus was also on Native American students in addition to those under the Latin-American umbrella. Aware that there's a large native population in Michigan, she thought it made perfect sense. With more friends and classmates coming into the fold over time, she helped to re-ignite the organization at CHM.

"At that time we had a lot of students who wanted to learn Spanish as well. So we figured we could incorporate this as part of LANAMA to help people understand how to further speak and interact in Spanish. That helped us on our trip to Peru."

Upon completing her preclinical years, Joanna decided to stay in Lansing for her clinical training. She initially planned to transfer to Flint as part of the LMU program, but fell in love with Michigan's capital city and all of the relationships she built, which included her patients. Lansing has its own underserved population, so Joanna felt that she could learn and help in similar ways.

"I want to do pediatrics because I feel that you can, at an early age, help children become their own advocate for health. If you empower children to take that responsibility, it'll lead to better outcomes. My goal is to be somewhere for the long-term and to see growing children take that responsibility and be hopeful that they can manage whatever comes their way."

As for whatever that has come Joanna's way, she has overcome. The lessons she's learned while in medical school go beyond medicine. She's learned about herself and, despite her occasional feelings of inadequacy, that she can achieve heights never imagined. She is proud of herself for pushing through when she had doubts.

"They say you are your worst enemy. I think that is so true. This is something I learned in medical school. No one was telling me I couldn't do this. I was the one who was afraid. I was the one who thought I couldn't do it. Whether it was because I thought it was too hard or that I wasn't good enough, it was all me. Once I realized that, yes, I do belong here and that I am smart, I am on the right path, I am meant to be here, I regained all that confidence."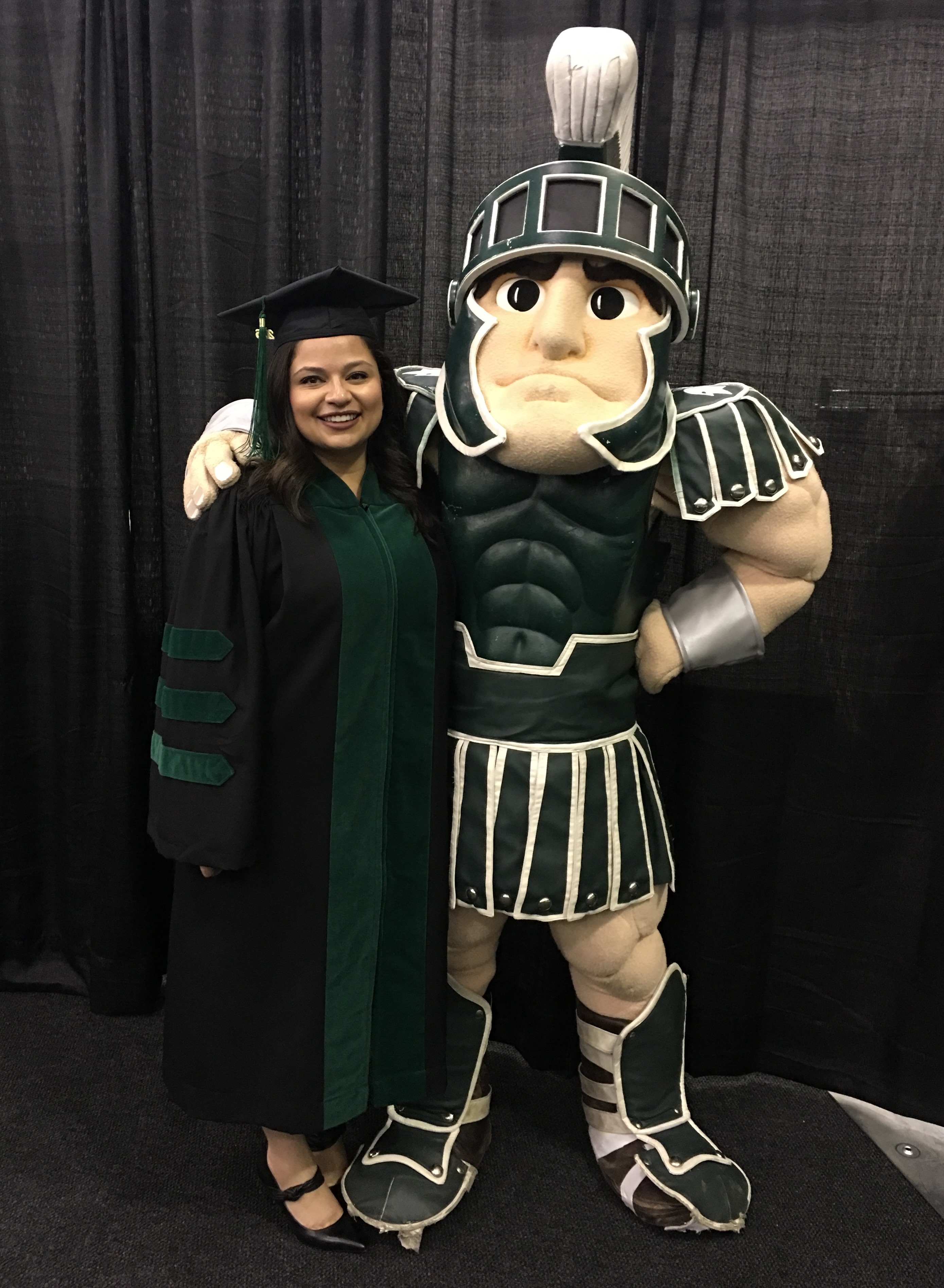 Part of the credit for that goes to her classmates for their continued support and friendship.
"I never thought I would make some of the best friends I've ever known here. I think CHM attracts people that are hard-working and smart, but that also understand and appreciate teamwork. We help each other out."

Sure, it's cliché. But Joanna says the people are what she enjoyed most about being at a community-based school. Not just classmates, but the patients as well. The staff and faculty all played a role in making this an experience she'll never forget.

"The way of life is different here. Learning about the community has been my favorite part. Difference makes all things interesting and I've had a great opportunity to learn.

"When I think of medical school, I think of how blessed I've been. I never would've thought I would've gone to Peru. I never thought I would've gone as a second-year medical student and watched a brain surgery. Just the opportunities that medical school has given me—there's so many. That's been my highlight."

Joanna's story wouldn't be complete without another trek across the country. She's returning to California for residency in Loma Linda as a National Health Service Corps (NHSC) Scholar, committed to serving in a high-need urban community. The Loma Linda University Medical Center has a strong focus on underserved and Spanish-speaking communities in the San Bernardino area.
Yet as she starts off on another road, she remembers the roads of her past. Her experiences have given her many things, including wisdom, empathy, courage, and perseverance—all traits that, one could say, had been shown by her parents and grandmother in their transition to the United States. Joanna says she's blessed that her grandmother was able to come and share graduation with her. Abuela is excited to see her granddaughter pursue her dreams, knowing first-hand where those dreams started.

"Before I moved to Southern California, she told me to treat everyone I meet—patients, families, nurses, hospital staff—with respect," Joanna says. "And to always look people in the eye when we are speaking."
In 20 years from now, one of the biggest compliments for Dr. Calderon would be to see a former patient entrust her with the care of their own children. For now, she expects to continue working hard and just wants to become a physician worthy of her patients.

"I want to be part of my community. I've always wanted to give back as a thank you to the communities like mine. I'm happy to start."