MD/MPH Program
Physicians are educated and trained on how to diagnose and treat human disease. Public health professionals assess factors affecting health, critique and apply research findings, and develop strategies and implement various measures to promote health and prevent disease.  Thus, integrated education and training toward the combined MD and Master of Public Health (MPH) degrees complement and enhance each other and provide health care professionals with greater understanding of health issues and better tools to understand and prevent human diseases.
The Master of Public Health Program and the College of Human Medicine (CHM) at Michigan State University are proud to partner and offer students the opportunity to dual enroll in the MPH and MD programs.  The MPH is an online program consisting of 43 credits: 10 credits of foundational courses, 15 credits of core courses, 12 credits of electives, and a culminating experience of 6 credits.
Interested students must apply to both CHM and the MSU Graduate School.  Information regarding the MPH application process can be found on the Master of Public Health website.  The applicant is evaluated independently by both the CHM and MPH Admissions Committees.
If accepted by the medical college, students are allowed to dual-count five credits of HM 552 and four credits of HM 553 to satisfy nine of the twelve-credit elective requirement for the MPH. Students have two options for completing their MPH coursework . Due to the rigor and timeline of the Shared Discovery Curriculum, students who have been admitted to the MD program are STRONGLY encouraged to complete their MPH coursework in accordance with Option A.
| | |
| --- | --- |
| OPTION A | Complete the MPH coursework in the four semesters prior to beginning medical school (summer, fall, spring, summer), delaying matriculation by one year. |
| OPTION B | Take nine credits of MPH coursework the summer prior to beginning medical school, then complete two years of the Shared Discovery Curriculum followed by a gap year to complete MPH coursework. |
*The MPH program understands that it may not be possible for a student to take nine credits prior to beginning medical school; a student should contact the parties below to discuss which curriculum plan best suits their needs.

It is in the best interest of students interested in dual enrollment with the MPH to speak with Carol Parker, PhD, MPH (Executive Director of Academic Affairs with the College of Human Medicine) as well as Karen Weissert, MSW (MPH Advisor) prior to deciding to pursue dual enrollment with the MPH.
See the curriculum plans below. Please note: these are recommended curriculum plans. Actual curriculum plans may vary.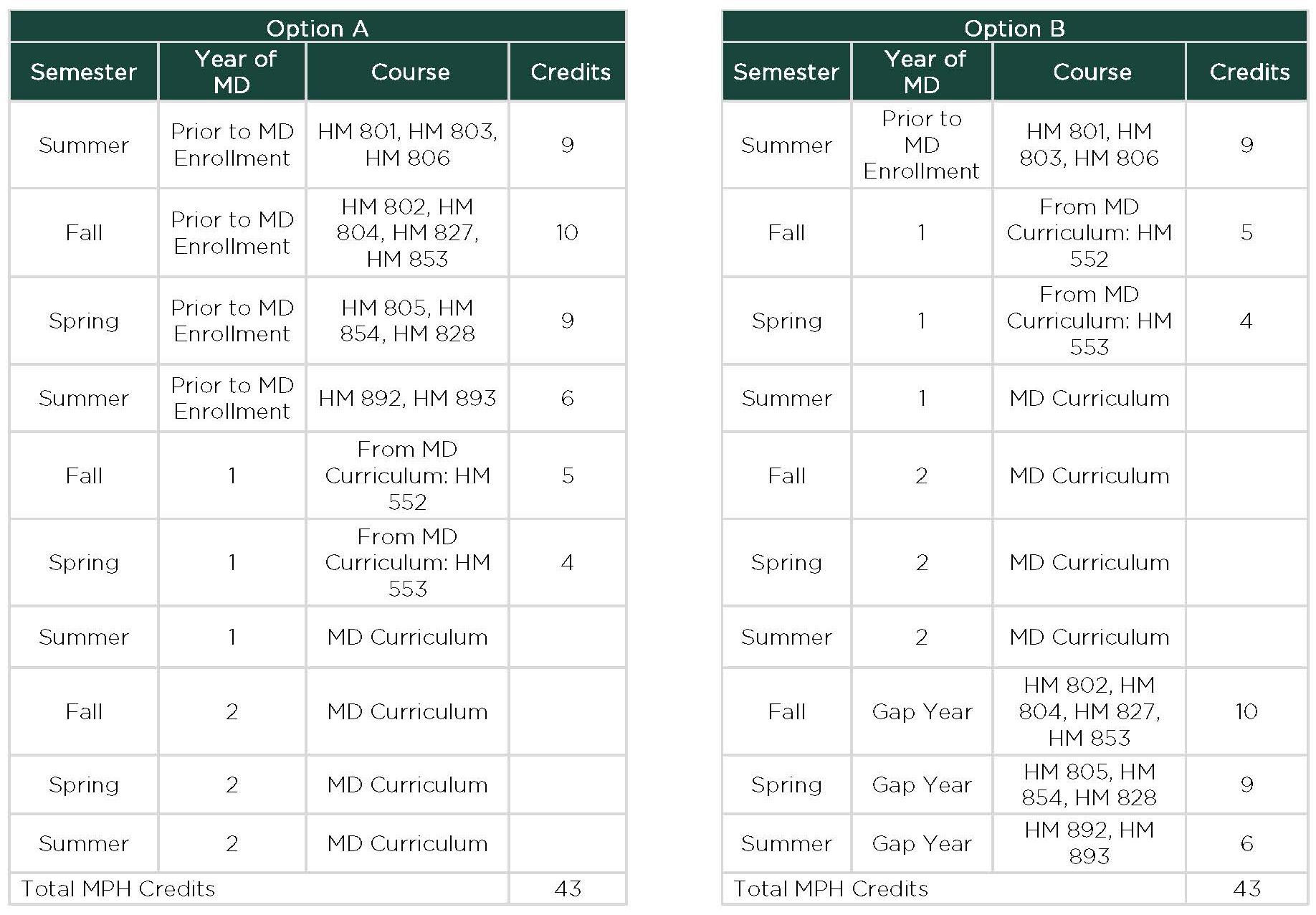 Students interested in learning more may contact the Master of Public Health Office at (810) 600-5601 or MPH_GeneralInformation@hc.msu.edu.