Community Campuses & Clinical Sites
As a community-based medical school, the College of Human Medicine is uniquely positioned to provide students with comprehensive training in clinical settings that most closely parallel the environment in which many physicians typically practice. The college differs from many medical schools in that there are eight (8) locations for clinical education and programs in more than 50 affiliated hospitals and facilities instead of one university hospital.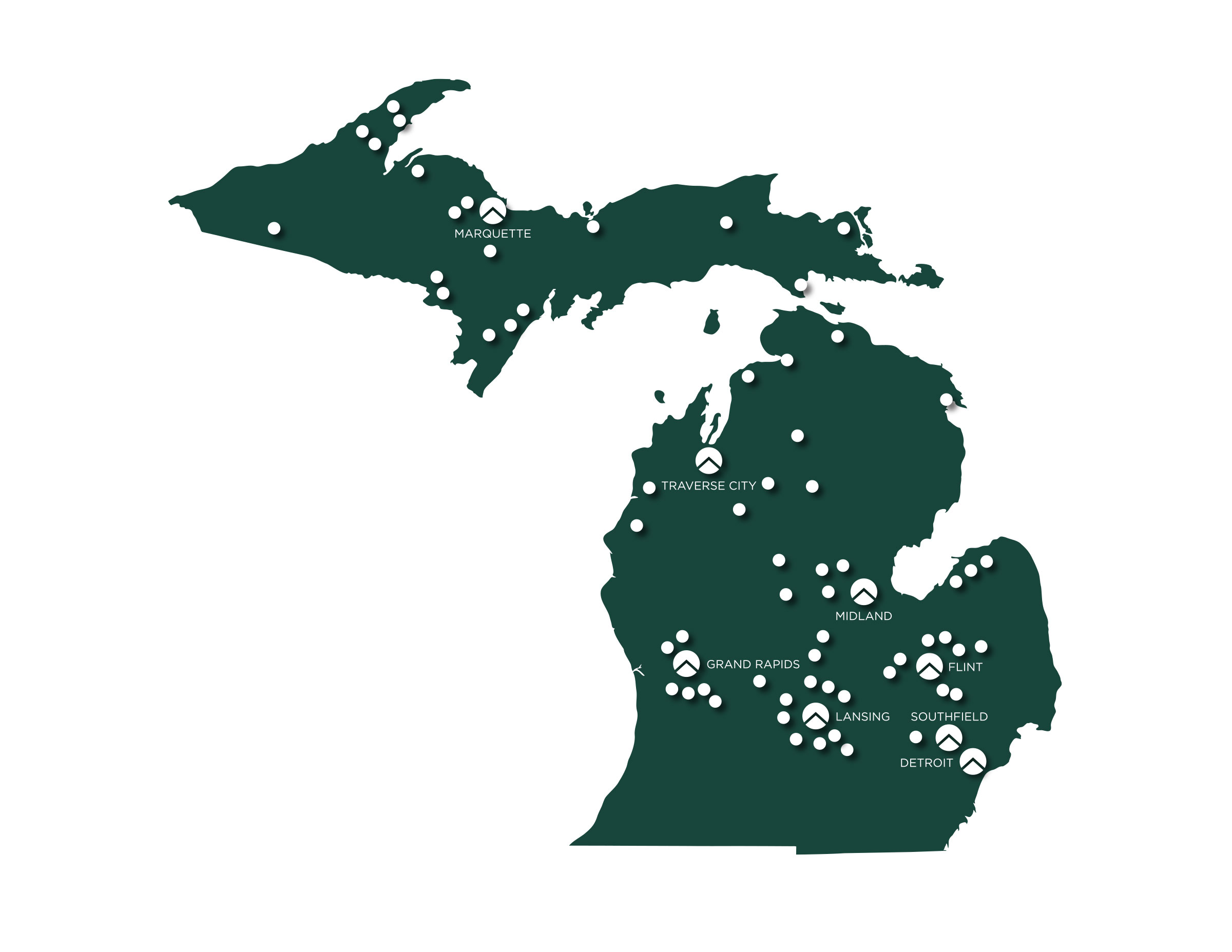 Throughout a student's four years at the college, they are in communities similar to those in which most physicians work, gaining valuable practical experience for their future careers. While in these communities, students receive clinical training in both ambulatory and hospital settings. 
Early and Middle Clinical Experiences (Years 1 and 2)
The curriculum for the first two years of medical school as part of the Early Clinical Experience (ECE) and Middle Clinical Experience (MCE) is delivered at either the East Lansing or Grand Rapids community campus. The East Lansing campus is located at one of the largest and most diverse universities in the country, Michigan State University. The Grand Rapids campus is based at the Secchia Center, located in the rapidly expanding health sciences corridor in downtown Grand Rapids. The curricula, calendar, and examinations are the same at both these campuses.
Late Clinical Experience (Years 3 and 4)
Students spend their Late Clinical Experience (years three and four) at one of seven clinical campuses located throughout the state:
Midland Regional Community Campus
Traverse City Community Campus
Upper Peninsula Regional Community Campus
Southeast Community Campus (Southfield)
Led by a Community Assistant Dean and college faculty, each community campus is aligned with area hospitals and outpatient facilities that join Michigan State University in creating a rich educational environment for students. The curriculum and evaluation is the same at all campuses. All clinical programs offer electives in both specialty and subspecialty areas. Research opportunities are also available.
*All students selected for the Leadership in Medicine for the Underserved (LMU) program complete their Late Clinical Experience at the Flint Campus. Applicants seeking acceptance to the LMU program must submit two additional essays and discuss their proficiency in Spanish at the time they submit their Secondary Application.
**All students selected for the Leadership in Rural Medicine (RPP and R-CHP) complete their Late Clinical Experience at the Upper Peninsula Regional, Midland Regional, or Traverse City Campuses. Applicants seeking acceptance into the RPP or R-CHP must submit two program-specific essays with their Secondary Application, in which they discuss their interest in rural medicine and highlight their personal characteristics and experiences that are consistent with becoming an excellent rural physician.