Office of Student Affairs and Services
Prematriculation and Orientation Week
The Office of Student Affairs and Services (OSAS) coordinates the Prematriculation and Orientation Program, and the White Coat Ceremony.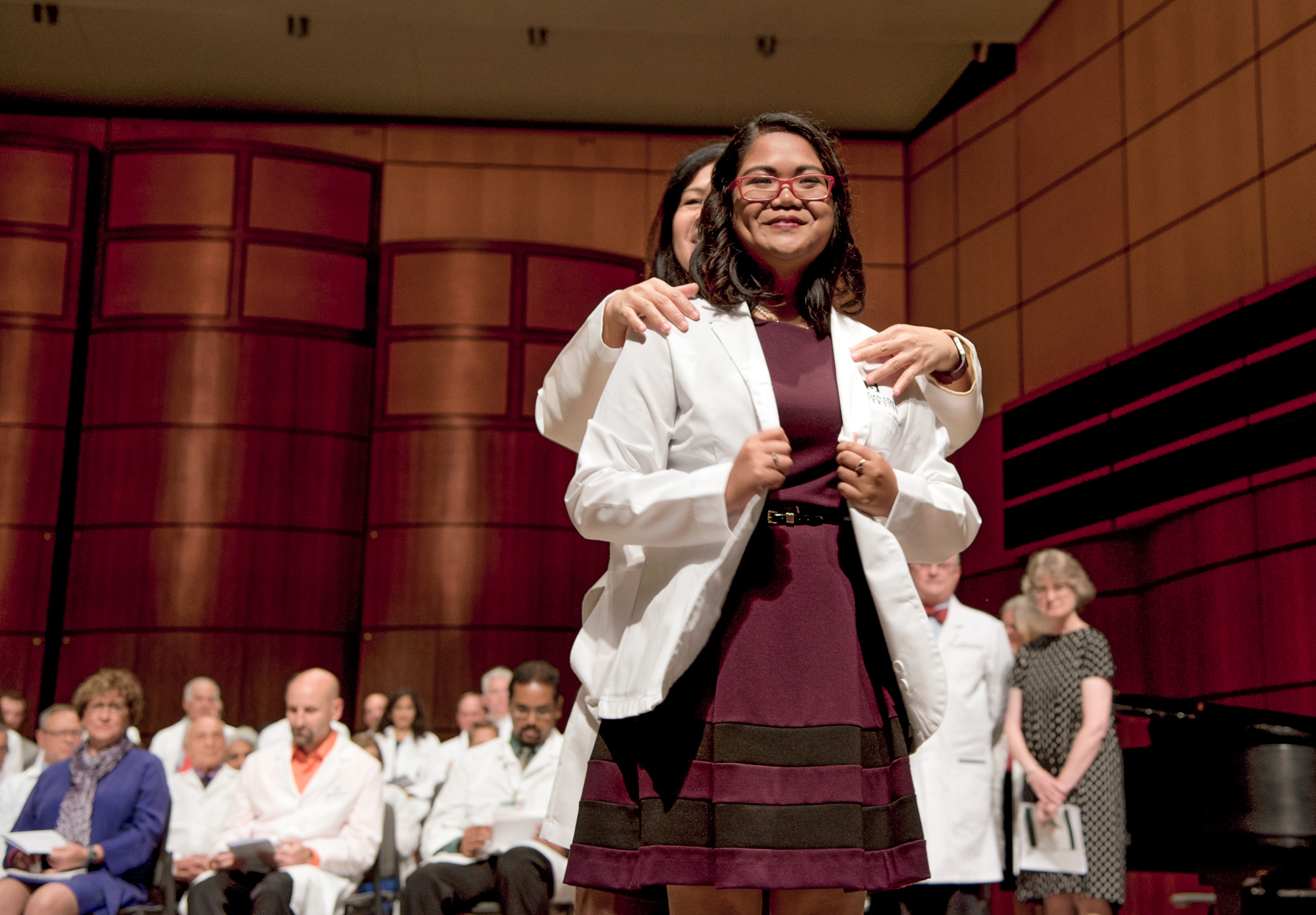 It is highly recommended that the entering class be in their respective preclinical community by August 5th in preparation for the mandatory Prematriculation and Orientation Program. For questions regarding the Prematriculation and Orientation Program or the White Coat Ceremony, please contact the Office of Student Affairs directly at 517-353-7140 or email.

Prematriculation and Orientation Program: August 8 - August 19, 2022

White Coat Ceremony: August 20, 2022 at 5 p.m. in the DeVos Performance Hall (Grand Rapids)

The White Coat Ceremony marks the official entrance into the Michigan State University College of Human Medicine. All 190 (approximately) students will be "coated" with their first official white coat.

First Day of Class: August 22, 2022
Personal Identification (PID) Number and Personal Access Number (PAN)
All students receive a PID and PAN upon admission to the university. These numbers are needed to activate your MSU NetID and MSU email account.
When your PID and PAN are available, you will access them in the CHM Applicant Portal.
MSU Net ID and Email Account
When you receive your PID and PAN numbers, you must activate your MSU NetID and MSU email account.
Your MSU NetID gives you access to online resources and the electronic mail system (@msu.edu) at Michigan State University. There is a deadline to activate your MSU Net ID, which will be given by OSAS via email. Go to Activating Your MSU NetID for detailed information on activation. When your MSU email address is established, update your email address with AMCAS, as much of the information for entering students is sent using the AMCAS system.
When your MSU NetID has been activated, your @msu.edu address will automatically be added to the entering class listserv. Check your email frequently so you do not miss critical information. All listserv email will be sent to your MSU email account only.
Housing
Students are strongly advised not to purchase a home or expect to otherwise settle in the local area. All students should expect to relocate to one of the seven clinical campuses across the state of Michigan at the end of the Year II, except in cases of documented hardships. Home ownership does not meet the criteria for hardship.
For assistance finding a roommate, information will be provided by the OSAS in preliminary communication.
Housing Resources for Incoming Students
East Lansing
There are both on-campus and off-campus options for housing in one of the nation's most lively college towns.
On campus, Owen Graduate Hall provides accommodations for graduate and professional students, post-doctoral fellows, and research assistants. Complete information can be found on the Housing Services website. In addition, the University owns and operates several apartment complexes that are available to MSU students.  For detailed information about University apartments, visit the University Apartments website.
East Lansing and the surrounding area provide a wide variety of living options off campus, many within a few minutes' drive. If you have a vehicle, a number of local communities, including DeWitt, Okemos, Haslett, Holt, Williamston, Mason, Waverly, and Grand Ledge are within reasonable proximity to MSU.

MSU's Community Liaison provides a variety of housing resources for students who are considering moving off-campus and living in the local community, including this helpful search tool at OffCampusHousing.msu.edu.
Just a few miles east of the Michigan State Capital, the MSU main campus offers museums, concerts, Broadway theatre, extensive gardens, working farms, wooded natural area trails, Big 10 sports, and all the resources you would expect from a top-notch university.
Grand Rapids
The Grand Rapids community also offers an array of housing options from as close as Heritage Hill near the Secchia Center to any of the plentiful residential areas within and outside the city limits.
Grand Rapids Medical Education Partners (GRMEP) has an Explore Grand Rapids page and our partners at Spectrum Health has a Graduate Medical Education Resources page for medical students, residents, and interns, along with information about the area. You can also find a lot of information on The Right Place, including information about housing - click on Neighborhoods at the bottom of the page.
Feel free to also search some of the available online housing search sites. As the second largest metro area in the state, there is an abundance of online listings.
Per Experience Grand Rapids, "Grand Rapids never fails to surprise visitors with the huge variety of things to see and do here: World-renowned art, museums and historic sites for cultural vacationers. World-class golf, recreation and beaches for nature lovers. Incredible farm-to-table restaurants for foodies and wholesome 'playcation' fun for families."
Entering Class Mailings
Incoming students may feel free to review and download corresponding mailings below:
East Lansing Mailing Six - July 19, 2022
Grand Rapids Mailing Six - July 19, 2022
East Lansing Mailing Seven - August 3, 2022